HIZAKI
2016年夏に完全復活を遂げたVersaillesのメンバーであり、2013年に結成したJupiterのリーダー兼コンポーザー。
技巧派ギタリストとして名高く、また"美"を追求した容姿とともにその知名度は国内外を問わず浸透し、海外公演も精力的に行なっている。
前作アルバム『Rosario』はギター・インストながら好セールスを記録しメタル界のみならず各方面からの評価も高い。
現在は2つのバンドとソロ・ワークを同時進行しながら、他バンドのプロデュースにも活動の幅を拡げている。
HIZAKI, leader and composer of the band Jupiter, formed in 2013; he is also a member of the band Versailles that was reborn in 2016.
Renowned as a skilled guitarist, along with the apparence of pursuing "beauty", his popularity has extended both in Japan and abroad.
He has also performed overseas with an extraordinary energy.
His previous album "Rosario" has recorded really good sales, even thou this one is an instrumental CD (guitars only).
It was highly appreciated not only by the Metal world but also in various musical fields.
Currently, while working simultaneously on 2 bands and his solo project, he has expanded his activities by producing other bands.
---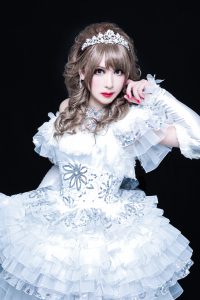 HIZAKI / Guitar
DATE OF BIRTH : FEB.17
BLOOD TYPE : AB
Twitter:https://twitter.com/hizakiOfficial
Facebook : HIZAKI_Official
Instagram : https://www.instagram.com/hizaki_official/
ESP : http://www.espguitars.co.jp/artist/hizaki/
Jupiter : http://jupiter.jp.net
Venus : Jupiter Official Mobile Fanclub-
Versailles : http://chateau-agency.com/versailles/